wOnKo's Special Theory
of Temporal Perception
Time is relative, lunchtimes doubly so (adapted from Douglas Adams, RIP).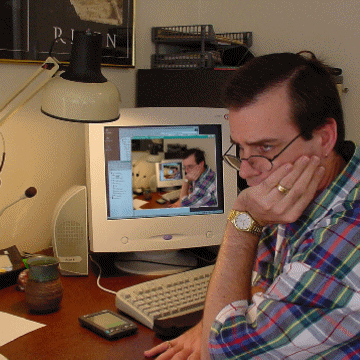 In a similar vein to Einstein's Special Theory of relativity, I have my own views on time, or rather personal perception of it (heareafter referred to as p-time) compared with realtime ... let me explain.
Realtime (the linear/sequential passing of one event after another hereafter referred to as r-time) is perceived by individuals differently. This is corroborated by numerous anecdotal accounts of certain activities seemingly extruding time (exam supervisions, dentist visits, bus stop queues and the like), other activities compressing time (holidays, sex, listening to music, using the 'net, chatting with friends and the like). The observer perceives time either to "fly" or "drag" dependent on the collection of experiential vortexes they find themselves in.
Historically this phenomenon is well known with such expressions as "my, how time flies when you are having fun" and "a watched pot never boils" being common banter when explaining how the lunch break has just evaporated (or equally, how painfully slow the visit with the Headmaster seemed).
In order to sort out this mess, I have put forward a number of postulates - these need to be thoroughly researched:
the total amount of time in the multiverse remains constant - this is to be referred to as realtime (or r-time for short)
r-time, mass and energy are all interchangeable (don't know why or how to interchange them, it seemed logical to me)
r-time, like mass and energy can travel in waves or be particular in nature
p-time temporal fields exist around each perceptual being - within each field, time is advancing either slowly or quickly depending on how the field-occupant perceives it. Looking between p-time fields however, we appear to be in synch with r-time.
p-time temporal fields can interact with each other - it is possible to influence another persons' p-time field (their perception of time) by having your p-time field intersect even partially with another - you can, for example, sweep up your audience or equally put them to sleep
p-time field interaction perception is a characteristic of a "mind" - sentient lifeforms possess this ability. Cats, for example are oblivious to time (p-time independent), therefore to us, they appear to not give a damn about the world about them and would appear to exist only in r-time.
...... um ... work in progress
graph with unintelligle axes and scale to follow...
What do you think?
Join an active online teaching community and share your opinions/concerns ...
Mail me with your ideas/feedback - I'll post it for others to see if you like.
---
Hunter Morris --- Skarab postulates:
Caffeine use is most commonly associated with a desire to increase productivity. It can be associated with other stimulants for this purpose. Use of such a drug is futile, however, because of its effect on p-time. Caffeine distorts the p-time field in such a way that whatever advantage
one feels she/he is gaining by using the drug becomes nil. The more you feel like you are getting done, the more time is passing and so forth. [This explains a lot - w]
---
© w2k+4